Heimberger Joins Lurie Cancer Center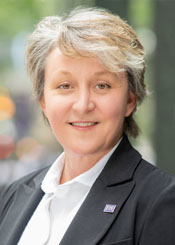 Renowned neurosurgical oncologist, Amy Heimberger, MD, has joined the Robert H. Lurie Comprehensive Cancer Center of Northwestern University as the Jean Malnati Miller Professor of Brain Tumor Research and scientific director of the Lou and Jean Malnati Brain Tumor Institute of the Lurie Cancer Center.
 "We're excited to welcome Dr. Heimberger to our Malnati Brain Tumor Institute," said Leonidas Platanias, MD, PhD, director of the Lurie Cancer Center. "Her practice-changing research and expertise will have a tremendous impact on our immunotherapy strategies against brain cancer."
Heimberger's research is focused on elucidating the mechanisms of tumor-mediated immune suppression and actionable targets for immune therapeutics. She has been intricately involved in a wide range of bench-to-bedside therapeutics, including those developed in her laboratory, with several arising from her own patients.
She was awarded the prestigious Presidential Early Career Award for Scientists and Engineers (PECASE) in recognition of her contributions to the field, and holds multiple NIH and foundation grants.
Dr. Heimberger also serves as Vice-Chair for Research in the Department of Neurological Surgery. She joined Northwestern Medicine from the University of Texas MD Anderson Cancer Center, where she was a professor of Neurosurgery and a leader of the Glioblastoma Moon Shot.