Platanias Appointed Associate Vice President for Cancer Programs at Northwestern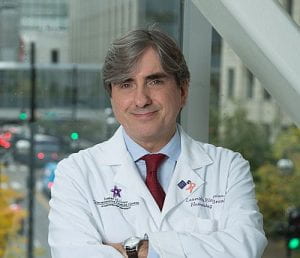 Leonidas Platanias, MD, PhD, will join Northwestern's Office for Research (OR) as an associate vice president, focusing on cancer programs. Platanias, the Jesse, Sara, Andrew, Abigail, Benjamin and Elizabeth Lurie Professor of Oncology, will retain his current role as director of the Lurie Cancer Center.
In this newly created role, Platanias will oversee all cancer-related activities at Northwestern, including its affiliates. He will collaborate with school deans across the University to develop and coordinate plans for the recruitment of all new faculty whose work is focused on cancer. He will also oversee clinical cancer research throughout Northwestern and work to optimize University operations essential for such research, leading efforts to streamline cancer clinical trials operations for Northwestern faculty.
Since Platanias became director in 2014, the Lurie Cancer Center has experienced dynamic growth in National Cancer Institute (NCI) funding, publications, and the number of patients enrolled in early-phase clinical trials. In 2018, Lurie Cancer Center received the highest rating in its history from the NCI, an overall exceptional and a near-perfect impact score on the competitive renewal of its Cancer Center Support Grant.
In announcing the news about this newly created role, along with two other changes to OR's leadership team, Milan Mrksich, PhD, vice president for research, said the strategic efforts were aimed at increasing operational effectiveness and engagement among the research office and the University's schools and units. "OR already is a strong, multifaceted team with a range of expertise that plays a catalytic part in facilitating Northwestern research," he said.  
Platanias is well known for his research — investigations that span more than 30 years and 350 published papers. His work is focused on signaling pathways in cancer cells and developing therapies that target those pathways to treat malignancies. He is also recognized for his research involving cytokines, blood proteins that have important links to cancer and other diseases.
 "I am excited about this newly created role in the Office of Research and I look forward to contributing in any way I can to the continued positive trajectory of Northwestern research that we have witnessed under the leadership of Milan Mrksich," Platanias said. "There are great opportunities and new goals in the biomedical research field that should help us further advance Northwestern as one of the very few top universities in the country."
Platanias will report to the vice president for research in this new role. "The Office for Research is laser-focused on supporting our investigators and further increasing the University's research impact and global reputation," said Mrksich. "Our leadership enhancements reinforce OR's mission by facilitating greater connection and collaboration across our entire research community."