Iruela-Arispe Named Co-Leader of the Tumor Environment and Metastasis Research Program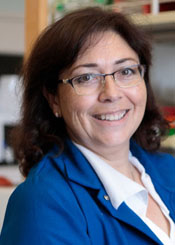 Luisa Iruela-Arispe, PhD, an internationally recognized vascular biologist, has been named co-leader of the Tumor Environment and Metastasis (TEAM) Program at the Robert H. Lurie Comprehensive Cancer Center of Northwestern University. The goal of the TEAM Program is to elucidate how interactions between tumor cells, immune cells, and components of the host stromal microenvironment impact tumor development and progression.
Iruela-Arispe is Chair of the Department of Cell and Developmental Biology and the Stephen Walter Ranson Professor. Her research focuses on the signaling pathways that regulate vascular morphogenesis during development and pathological settings. Her current cancer research interests include the molecular mechanisms that result in the emergence of angiosarcomas and the cross-talk between endothelial and tumor cells in the process of metastasis.
"I am thrilled to join the leadership of the Lurie Cancer Center and contribute to our efforts to improve early detection and treatment of cancer," said Iruela-Arispe. In collaboration with TEAM Co-Leader, Hidayatullah Munshi, MD, she will help advance efforts to translate basic science discoveries from the TEAM Program into clinical practice.
Iruela-Arispe earned her doctoral degree from the University of São Paulo in Brazil in 1989. She went on to complete postdoctoral training at the University of Washington in Seattle, and later joined the faculty at Harvard Medical School. Prior to joining Northwestern in 2019, Iruela-Arispe was the Distinguished Professor of Molecular, Cell and Developmental Biology at the University of California, Los Angeles (UCLA). She also served as director of their Molecular Biology Institute and chair of the Molecular Biology interdepartmental Graduate Program.
"Luisa's strong leadership and expertise will strengthen the TEAM program in a major way. I look forward to working with her," said Leonidas Platanias, MD, PhD, director of the Lurie Cancer Center. "I would also like to thank Carole LaBonne for her service and contributions to the program."