Horbinski Named Director of the Pathology Core of the Lurie Cancer Center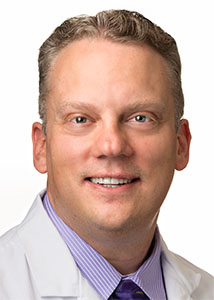 Craig Horbinski, MD, PhD, director of the Division of Neuropathology in the Department of Pathology, has been named director of the Pathology Core Facility at the Robert H. Lurie Comprehensive Cancer Center of Northwestern University, effective July 1, 2022.  
The Pathology Core Facility (PCF) is a centralized, comprehensive, core laboratory providing histology, immunohistochemistry, molecular analysis and extraction and microscopic evaluation services for human tissue-based studies. A shared resource of the Lurie Cancer Center with laboratories on the Chicago Medical Campus, the PCF has an experienced team and infrastructure capable of supporting tumor banking and biomarker-based clinical trials at Northwestern University. 
Dr. Horbinski, a professor of Pathology and Neurological Surgery, is also Director of the Northwestern University Nervous System Tumor Bank and the Biospecimen Core in the Lurie Cancer Center Brain Tumor SPORE. Dr. Horbinski's clinical specialty is the use of molecular diagnostics in central nervous system tumors. His laboratory research focuses on developing a better understanding of how key mutations in gliomas alter their biological characteristics, and how best to exploit specific weaknesses that such mutations often impart. 
Dr. Horbinski has authored over 180 peer-reviewed publications and has obtained extramural research support as a principal investigator from multiple sources, including the NIH. 
Dr. Horbinski will succeed Jian-Jun Wei, MD, as director of the Pathology Core. "We are excited that Craig has agreed to be director of the Pathology Core. He is an exceptional leader at all levels and will drive the development of new technologies and approaches in this important shared resource of the cancer center," said
Leonidas Platanias, MD, PhD,
director of the Lurie Cancer Center. "I would like to thank Dr. Wei for his valuable contributions, and I look forward to working with him in different roles within the cancer center."