Jane N. Winter, MD, Begins Term as American Society of Hematology President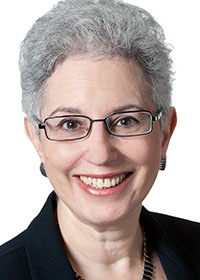 Jane N. Winter, MD, a highly regarded lymphoma expert, will serve as president of the American Society of Hematology (ASH) for a year-long term through December 2022.
Winter is Professor of Medicine in the Division of Hematology/Oncology, a member of the Robert H. Lurie Comprehensive Cancer Center of Northwestern University, and a hematologist at Northwestern Medicine. Her research interests include clinical and biologic markers of prognosis in diffuse large B-cell lymphoma, and clinical trials and translational research with novel agents in Hodgkin and non-Hodgkin lymphoma.
"Never before have there been so many promising scientific advances and new effective therapies in the field of hematology," said Dr. Winter, a hematologist at Northwestern Medicine. "As ASH President, I look forward to facilitating collaboration among ASH members and others who share our mission globally. It is through this vital scientific exchange that we can learn, adapt, and above all, improve care for those living with blood disorders. I am eager to welcome all who have an interest in hematology to the ASH family. I look forward to advancing our mission to promote research, high-quality equitable clinical care, education, training, and advocacy in hematology."
Dr. Winter has been a member of ASH for 39 years, and during that time she has served in various leadership roles representing the Society, most recently serving as an ASH Councillor and member of ASH's Executive Committee. She was a member of the Committee on Educational Affairs (CEA) for 10 years, served as the Education Program Co-Chair for the annual meeting, and was Vice-Chair and then Chair of the CEA.
"Dr. Winter has made transformative contributions in the field of Hodgkin and non-Hodgkin lymphomas," said Leonidas Platanias, MD, PhD, director of the Lurie Cancer Center. "We are excited about this well-deserved recognition of her work, and look forward to her leadership in advancing research to defeat blood diseases."   
# # #
The American Society of Hematology (ASH) (www.hematology.org) is the world's largest professional society of hematologists dedicated to furthering the understanding, diagnosis, treatment, and prevention of disorders affecting the blood. For more than 60 years, the Society has led the development of hematology as a discipline by promoting research, patient care, education, training, and advocacy in hematology. ASH publishes Blood (www.bloodjournal.org), the most cited peer-reviewed publication in the field, and Blood Advances (www.bloodadvances.org), an online, peer-reviewed open-access journal.