Lucy A. Godley Joins the Lurie Cancer Center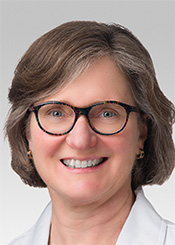 The Lurie Cancer Center is pleased to welcome Lucy A. Godley, MD, PhD, as the inaugural director of the Jeff and Marianne Silver Family Blood Cancer Institute of the Robert H. Lurie Comprehensive Cancer Center, effective April 1, 2023. She will also serve as Clinical Director of Cancer Genetics.
A nationally recognized expert in the treatment of patients with leukemia and myelodysplastic syndromes, Dr. Godley is currently a Professor of Medicine in the Section of Hematology and Oncology and a Professor of Human Genetics at the University of Chicago. As a physician-scientist, she has a special interest in the molecular basis of bone marrow malignancies and bringing that perspective to the care of her patients.
Made possible by a philanthropic investment from the Jeffrey and Marianne Silver Family Foundation, the Silver Family Blood Cancer Institute of the Lurie Cancer Center was established to strengthen and expand emerging research and clinical trials in the Lurie Cancer Center Center's Hematologic Malignancies Program.
"Dr. Godley's expertise will enhance research on blood cancers and dramatically strengthen our clinical cancer genetics efforts across Northwestern Medicine," said Leonidas Platanias, MD, PhD, director of the Lurie Cancer Center. "We are delighted to welcome her in this important new role, made possible by the generous support of the Silver family.  
Dr. Godley received her medical degree from Northwestern University Feinberg School of Medicine, and performed her doctoral research at University of California, San Francisco, in the laboratory of Nobel Prize laureate, Harold Varmus, MD. She has received numerous awards for her research, including the Howard Hughes Medical Institute Physician Postdoctoral Award, the Cancer and Leukemia Group B Foundation Clinical Research Award, the American Society of Clinical Oncology Young Investigator Award, and the Cancer Research Foundation Young Investigator Award. She was inducted into the American Society of Clinical Investigation in 2012.