Chicago Cancer Initiative: Taking Action to Achieve Health Equity, Together
The Chicago Cancer Initiative (CCI) is a collaborative effort to eliminate cancer health disparities and improve outcomes on every block of the Chicago Metropolitan Area by engaging community, philanthropic and community leaders.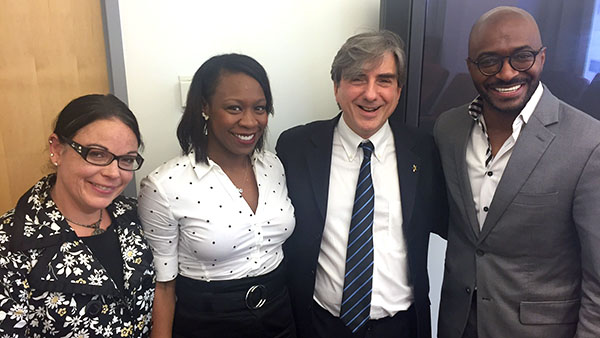 Cancer affects people of all races and ethnicities, however not all Americans are benefiting equally from advances in cancer research and treatment.
Low income and medically underserved communities have dramatically higher cancer death rates than those with higher socioeconomic status, regardless of race or ethnicity.
Cancer disparities are clearly evident in Chicago's African American communities. According to the American Cancer Society, African Americans have the highest death rate and shortest survival time for most cancers of any racial or ethnic group in the nation.
Four cancer types (breast, prostate, colorectal and lung) account for more than half of these cancer cases.
A wide range of studies have increased awareness and understanding of cancer disparities. The CCI will focus on using that knowledge to effect change in the Chicago Metropolitan Area. The goals of the initiative include:
Engage community leaders and health-care providers to evaluate disparities in prevention and cancer care delivery.
Expand the capacity of community-based clinicians and organizations to offer educational activities, treatment and support for patients with cancer.
Increase access within minority and underserved communities to vital cancer prevention, early detection, and treatment information and services.
Ensure that every cancer patient has the opportunity to receive high-quality cancer care, from diagnosis through survivorship.
Initiated by the Robert H. Lurie Comprehensive Cancer Center of Northwestern University, the CCI offers an unparalleled opportunity to leverage our collective strengths and expertise to reduce cancer rates and improve outcomes throughout Chicago. Initially, our partners will work together to target and advance the efforts that will have the greatest impact on the communities we serve, now and in the future.
To learn more or get involved with the Chicago Cancer Initiative, contact Karen Kliebhan at Karen.kliebhan@nm.org.