Jyoti Patel Joins the Lurie Cancer Center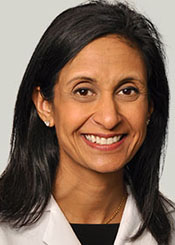 Jyoti Patel, MD, will join Northwestern Medicine as Medical Director of Thoracic Oncology and Assistant Director for Clinical Research at the Lurie Cancer Center, effective November 1, 2019. She will also serve as Associate Vice-Chair for Clinical Research in the Department of Medicine.

An internationally recognized expert in the treatment of patients with lung cancer and other thoracic cancers, Patel uses targeted approaches, immunotherapy and cytotoxic chemotherapy to provide personalized treatment options. She is an active clinical investigator focused on novel therapeutics and developing personalized treatments, with the goal of improving outcomes for patients with lung cancer.

"We are excited to welcome Jyoti back home to Northwestern," said William Gradishar, MD, chief of Hematology and Oncology. "She will enhance the Thoracic Oncology Program and expand clinical trials of novel therapeutic approaches for the treatment of lung cancer. We anticipate that her influence and vision will propel the trajectory of our research efforts at the Lurie Cancer Center to greater success."

Patel has authored numerous publications and held leadership positions on national thoracic committees, including the National Comprehensive Cancer Network, Hoosier Cancer Research Network and the Eastern Cooperative Oncology Group.

"Jyoti is a strong leader and a talented clinical investigator" said Leonidas Platanias, MD, PhD, Director of the Lurie Cancer Center. "We are very excited that she will be joining us. She will make a big difference in our clinical research efforts, drive the growth of our thoracic oncology program and help advance the mission of the Lurie Cancer Center and Northwestern Medicine."

These new leadership roles bring Patel full circle. Patel graduated from Northwestern with a BA in English Literature. After earning her medical degree from Indiana University, she completed her residency at Northwestern, University, where she also served as Chief Medical Resident. She went on to complete her medical oncology fellowship at Memorial Sloan Kettering Cancer Center. She returned to Northwestern in 2003, where she served as the Lurie Cancer Center's Thoracic Oncology Program Leader. In 2016, Patel joined the University of Chicago, where she is a Professor of Medicine and Director of Thoracic Oncology.