Platanias Receives AHEPA Academy of Achievement in Medicine Award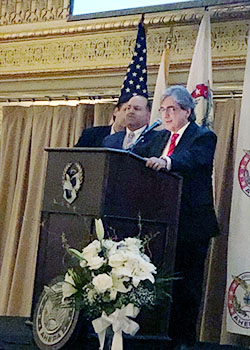 Leonidas Platanias, MD, PhD, director of the Lurie Cancer Center, received the 2019 Academy of Achievement in Medicine Award from the American Hellenic Educational Progressive Association (AHEPA). The award was presented Friday, July 5, at the Grand Banquet and Ball during AHEPA's 97th Annual Convention in Chicago.
Born and raised in Athens, Greece, Platanias was attending the University of Patras medical school when his father was diagnosed with leukemia. "I decided then to follow a career in cancer," he says. "I felt that this was the most important field in medicine, and I still do."
Today, his role as director of the Lurie Cancer Center, puts him at the helm of clinical operations that serve more than 15,000 new cancer patients each year and a research enterprise that includes a wide range of clinical trials. In addition Platanias, the Jesse, Sara, Andrew, Abigail, Benjamin and Elizabeth Lurie Professor of Oncology, runs an active laboratory that investigates immune regulation in leukemias and other cancers.  He has published more than 320 papers and his research has been continuously funded by the National Cancer Institute for over 25 years.  
Dedicated to promoting the ancient Hellenic ideals of education, philanthropy, civic responsibility, family and individual excellence through community service and volunteerism, AHEPA has more than 400 chapters across the U.S. Canada and Europe.