You Are the Reason We Celebrate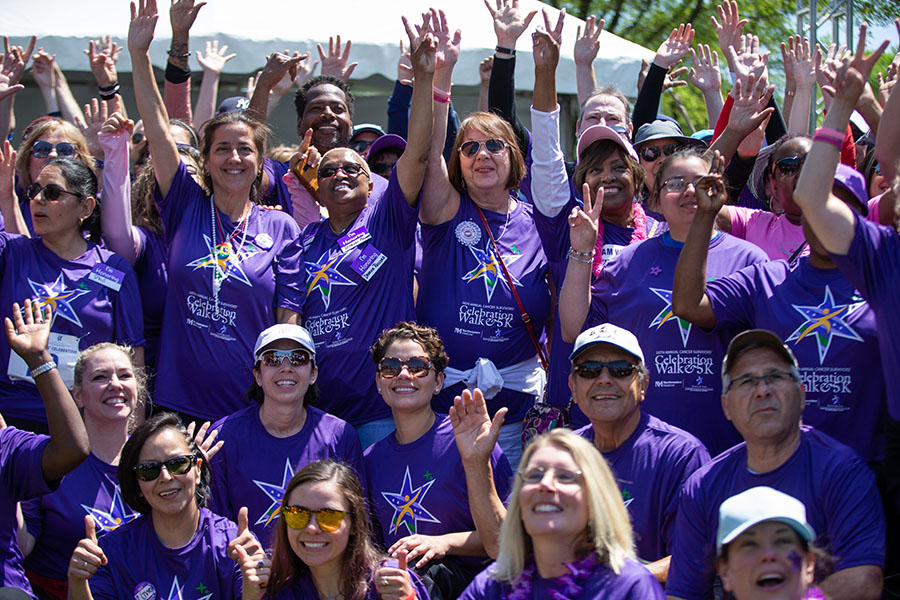 On Sunday, June 2, more than 3,000 participants gathered in Chicago's Grant Park for the 2019 Cancer Survivors' Celebration Walk & 5K. Held on National Cancer Survivors Day, Lurie Cancer Center's signature event is a source of hope and inspiration for people who have faced, or are facing cancer.
Bright blue skies and sunshine set the stage for cancer survivors to connect as a community, celebrate milestones and recognize those who have supported them along the way. If you couldn't make it to Grant Park, you can view photos from this year's event on Flickr.
Through your dedication and fundraising efforts, our 26th annual event raised more than $350,000 to help physicians and scientists at the Lurie Cancer Center and Northwestern Medicine transform leading-edge research into life-saving treatments and patient-centered cancer care. You can still make a donation here. Together we can offer more hope to more people.
Highlights of our 26th annual event included:
Craig Horbinski, MD, a neuropathologist at the Malnati Brain Tumor Institute of the Lurie Cancer Center at Northwestern Memorial Hospital, starting the 5K race with the message, "There is real cause for hope. . . Certain cancers, like the one I focus on, brain cancer, remain very tough to treat. But for the first time in my career, it's now clear to me that even brain cancer will someday be a manageable condition. I look forward to the day when I can point to a brain tumor on a microscope slide and tell my trainees "I remember when this was incurable. Now we can do something about it."
Congratulations to all our runners. It was a beautiful morning for the 5K race! You can view the race results here.
It has been 11 years since Meg Keating was diagnosed with brain cancer, and every year she looks forward to this day as a chance to celebrate and give newly-diagnosed patients more reasons to be hopeful about living with, through and beyond cancer. She shared her story, together with Jack Shireman, who was diagnosed with a brain tumor at 14. "I have been tumor-free for 10 years now, and I've been fortunate to not have many side effects," he said. "But I still undergo regular monitoring to make sure the tumor isn't growing back, and every time I get scanned it always sticks in the back of my mind that I need to keep driving toward my research goals. It's something I see as continual motivation — because I know how many people are not as lucky as I was." Watch Meg and Jack share their stories »
"This is an amazing event," said Leonidas Platanias, MD, PhD, director of the Lurie Cancer Center, before counting down to begin the Walk. "There are 16 million cancer survivors in the U.S. We're making progress, but it is not enough. It is time for us to eliminate this disease once and for all. . . We are getting there, but it can only happen with research. I want to personally thank all the fundraising teams and the donors. Your support makes a significant difference." Watch Dr. Platanias launch the Walk »
Walkers returned to hear Jamey and Ryan Maniscalco honor the legacy of their father, Chuck Maniscalco (Watch »). After being diagnosed with Stage IV lung cancer, until he passed this spring, Chuck dedicated himself to helping others and advocating for personalized, research-based treatment options offered through the Lung OncoSET program. His sons were joined at the Walk by friends and family to create their own legacy, and support the Lurie Cancer Center in Chuck's honor.
For JulieAnn Villa, after being diagnosed with two different cancers in four years, every mile she runs is a victory lap. She ran before, during and after her treatment for rectal cancer – but osteosarcoma, presented a different kind of challenge. Even though her doctors removed a major bone in her leg as part of her treatment, she continues to run half marathons, complete triathlons, and inspire us all. After running the 5K (along with her oncologist, Mark Agulnik, MD) JulieAnn talked about the steps she's taken since her first diagnosis and the importance of "showing up for each other." Watch JulieAnn share her story »
The memorable morning ended with cancer survivors coming together for the annual group photo.
Thank you to our Oncodermatology Program for providing free skin checks and tips for reducing skin cancer risk, and Be The Match for the opportunity to register onsite as a potential marrow donor. Thanks, too, to the All of Us Research Program at Northwestern Medicine for sharing their mission to speed up health research breakthroughs.
We are grateful to all of our fundraising teams and donors for their dedication to supporting innovative research at the Lurie Cancer Center, and leading the charge to improve cancer prevention, treatment and survivorship. Special thanks to our top 2019 fundraising participant, Steven Daniel, and our two top fundraising teams, "Chuck's Champions," honoring Chuck Maniscalco, and "Cancer Sucks," led by team captain Mark Dybas!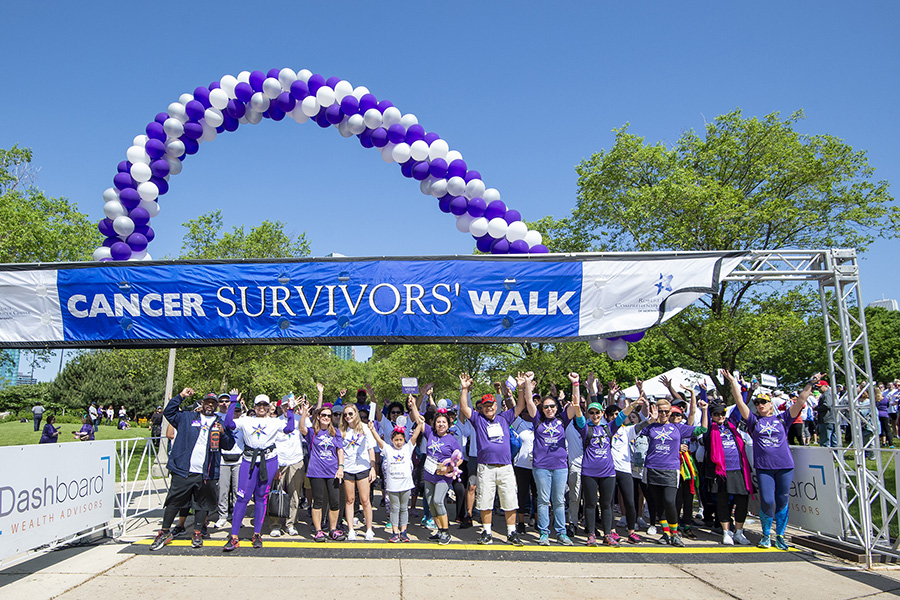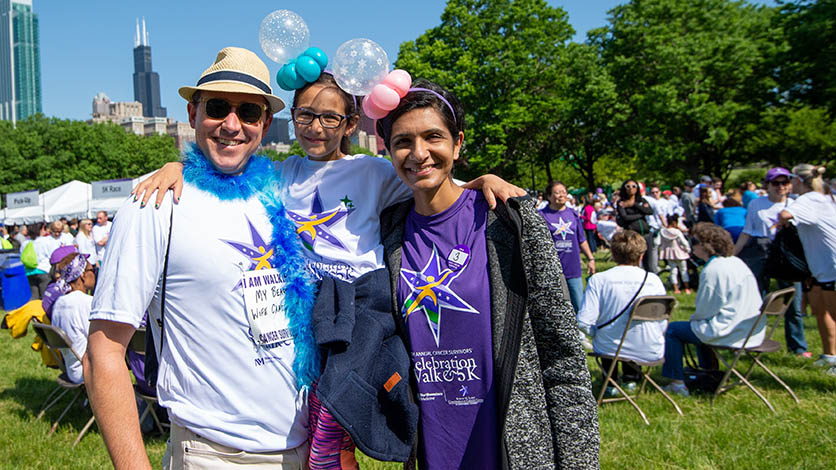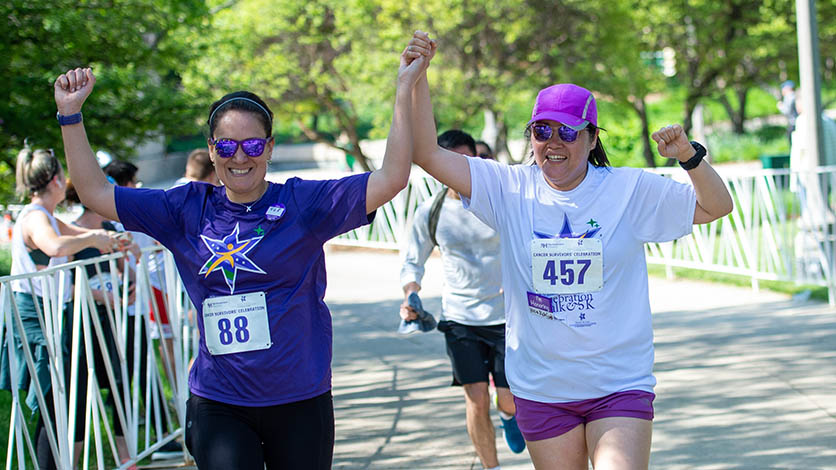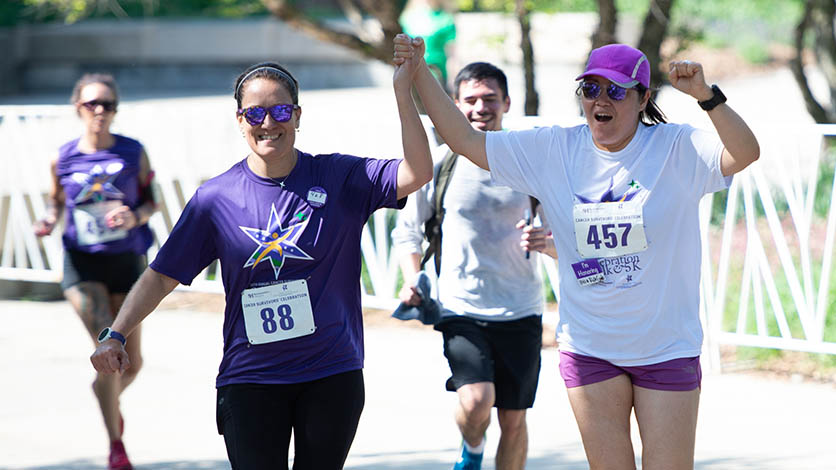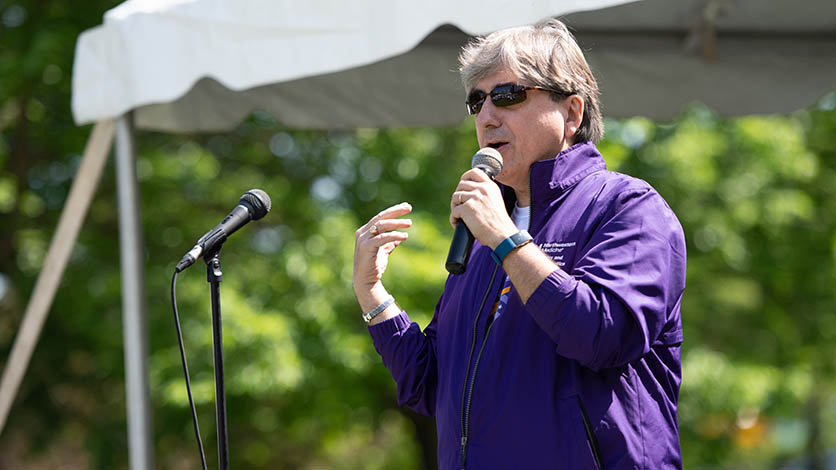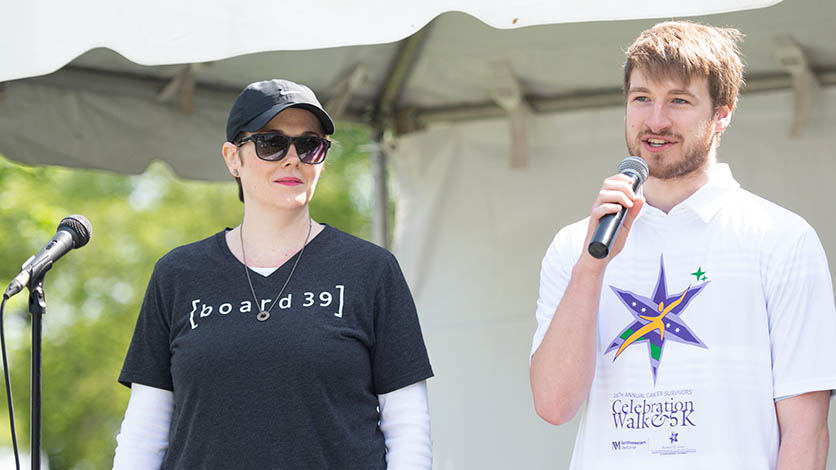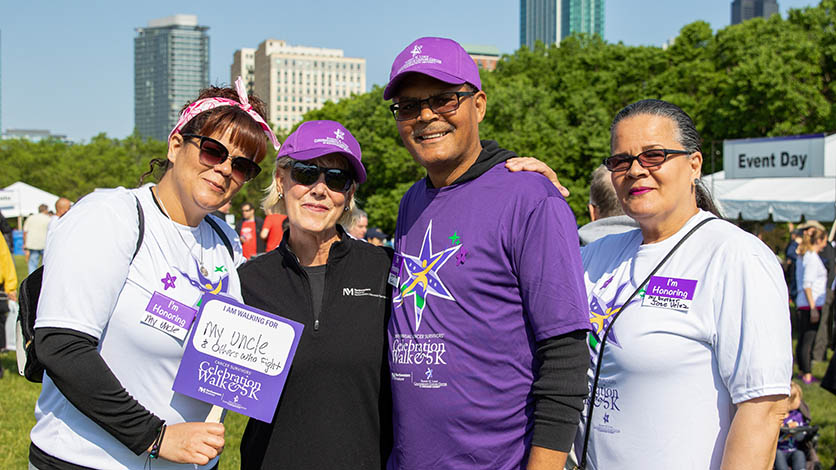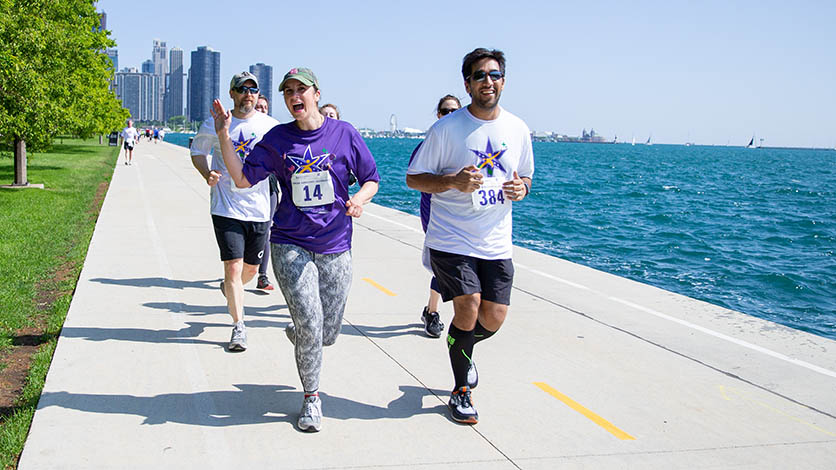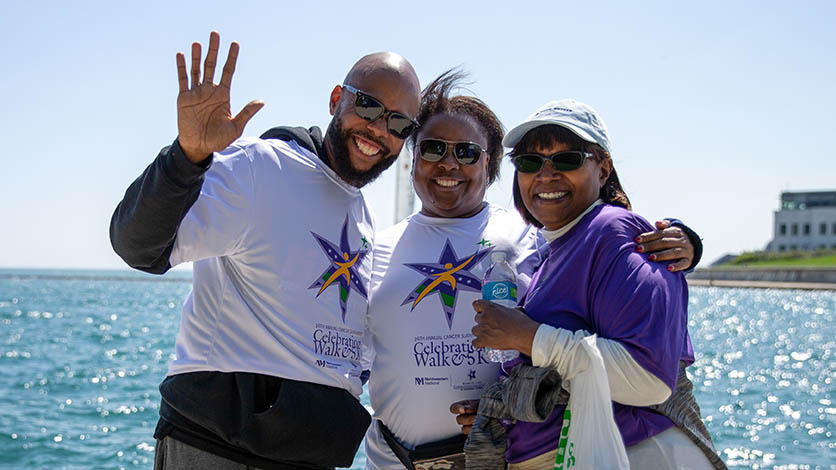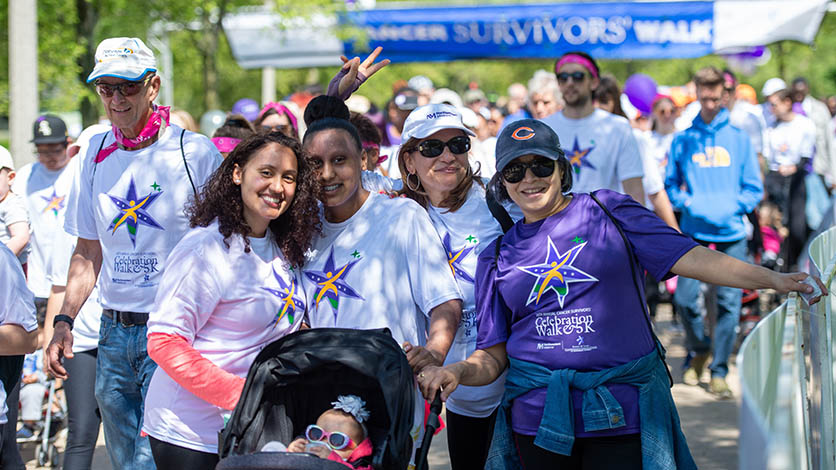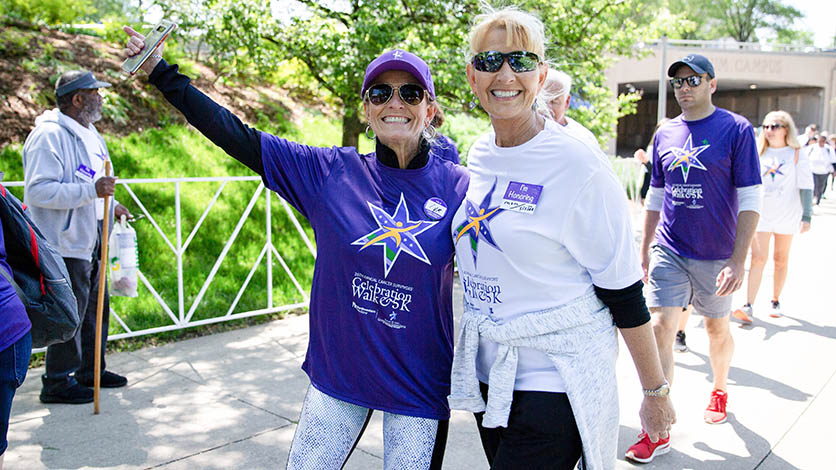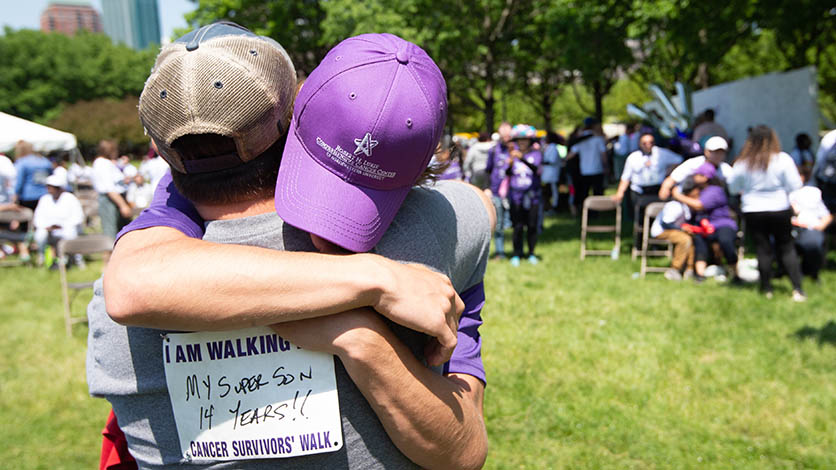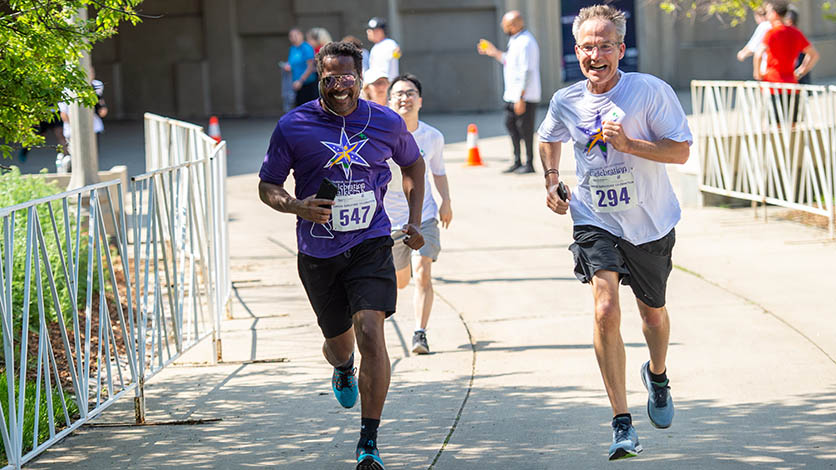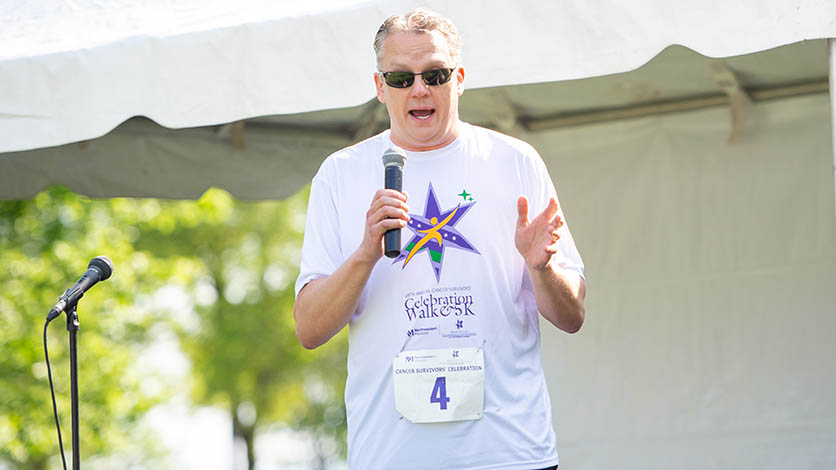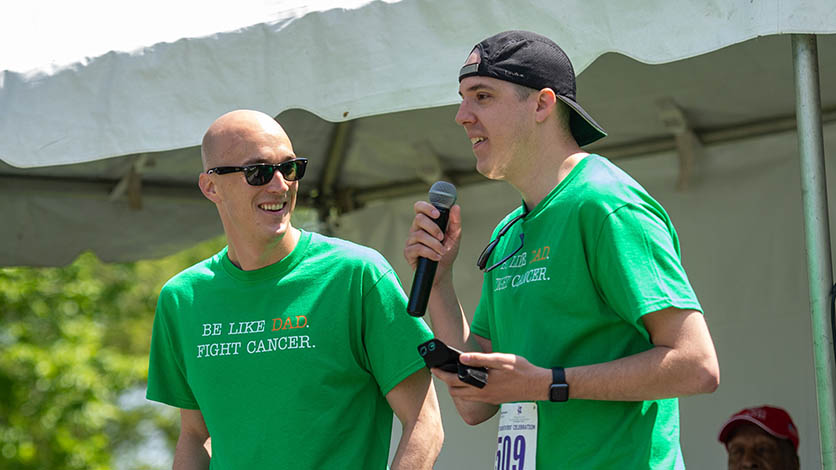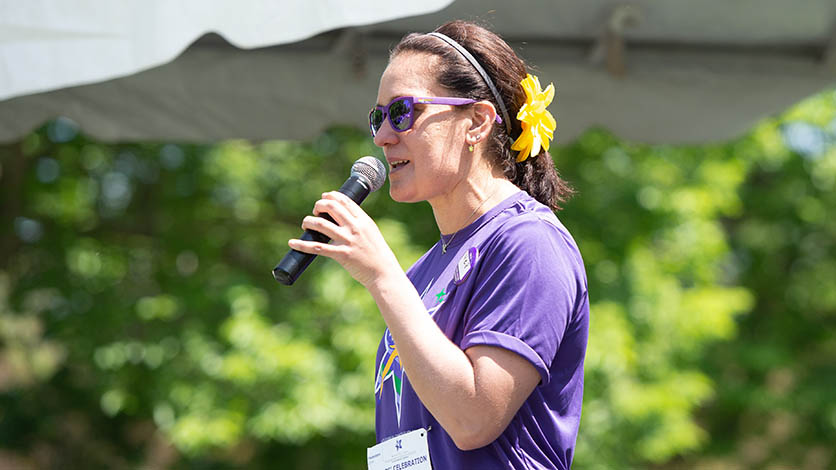 We'll see you in 2020 at the 27th Annual Cancer Survivors' Celebration Walk & 5K!
Thanks to the support of our sponsors, 100% of the proceeds from our Cancer Survivors' Celebration Walk & 5K support vital research and programs at the Lurie Cancer Center.
Abbvie
The All of Us Research Program at Northwestern Medicine
Amgen Oncology
Castle Biosciences, Inc.
Chicago White Sox
Dashboard Wealth Advisors
Equity Residential Foundation
Genentech
The Signature Room at the 95th