Jane Winter Elected President of ASH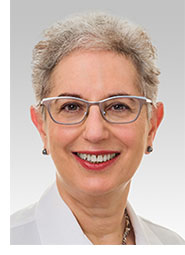 Lymphoma expert Jane Winter, MD, has been elected to the leadership of the American Society of Hematology (ASH). She will serve a one-year term as vice president, followed by successive terms as president-elect and president of ASH, the world's largest professional society concerned with the causes and treatment of blood disorders.
"Never before have there been so many promising scientific advances and new effective therapies in the field of hematology," she said in the ASH announcement. "As hematologists, we must embrace new constituencies – such as those who work in immunotherapy or vascular biology with whom we share our basic mission – learn from others and always be willing to adapt. I've worn many hats throughout my years in the field and am committed to welcoming all who have an interest in hematology under our tent."
Winter, a Professor of Medicine in the Division of Hematology and Oncology and a member of the Lurie Cancer Center, will begin her service as vice president after the ASH Annual Meeting, held in Orlando from December 7 – 10, 2019. Her research focus includes clinical and biological markers of prognosis in diffuse large B-cell lymphoma, as well as clinical trials and translation research with novel agents for non-Hodgkin and Hodgkin lymphoma. An ASH member for more than 30 years, she recently served as a member of the Executive Committee and completed a four-year term as ASH Councillor.
"Here at the Lurie Cancer Center, we are very proud of Jane, and excited about this well-deserved national recognition of her work," said Leonidas Platanias, MD, PhD, director of the Lurie Cancer Center. "She has made transformative contributions in the field of Hodgkin and non-Hodgkin lymphomas, and she will provide very strong leadership for ASH."