Mario Shields Receives NCI Cancer Moonshot Scholars Award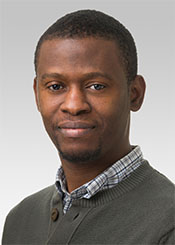 Mario Shields, PhD, research assistant professor of Medicine in the Division of Hematology and Oncology and a member of the Lurie Cancer Center, has received the National Cancer Institute's (NCI) Cancer Moonshot Scholar Award. The NCI has awarded $5.4 million to support the first 11 Cancer Moonshot Scholars, a new program that aims to advance cancer science while also diversifying the pool of early-stage investigators and approaches to research that NCI funds.
The program was developed to help the White House's Cancer Moonshot Initiative achieve the goal of inspiring and supporting world-class scientists from diverse backgrounds, including those from underrepresented groups in the biomedical sciences. NCI intends to fund up to 30 additional Cancer Moonshot Scholars. "We are at our best when we capitalize on the diversity of the nation's skills, talents, and viewpoints to solve the complex problems in cancer research, and the Cancer Moonshot Scholars program is a critical step in that direction of equity," said NCI Center to Reduce Cancer Health Disparities Director, Dr. Sanya A. Springfield.
Shield's primary research focus is aimed at understanding the mechanisms of pancreatic cancer development and progression. The NCI's award will support his research to define a role for the mTOR pathway in the development and progression of pancreatic cancer in the context of  Ga13 loss.
"Dr. Shields is a superb investigator," said Leonidas Platanias, MD, PhD, director of the Lurie Cancer Center. "We are pleased to see this recognition of his work and especially proud that he was also the first recipient of Lurie Cancer Center's Diversity Scholars Award.
Read the announcement from the White House
Read about the first 11 Cancer Moonshot Scholars and their funded projects.